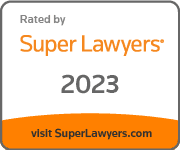 Benjamin Flam can be reached at bflam@gordonllp.com
BREAKING NEWS: Flam argues successful appeal before First Circuit Court of Appeals. First Circuit decision reopens door to $11M severance package for Gordon Law Group client (February 17, 2021) (View Article)
From Judge James Lang (June 22, 2023):
"The Court observed first-hand what it considered to be an exceptional performance by Attorneys Gordon and Flam during the extensive pretrial motion practice and the eight-day trial. They were exceedingly well-prepared on the facts and the law. In the court's view, given the formidable legal talent and experience of the three lawyers who opposed them, plaintiff's counsel would not have prevailed had their performance in all respects not been first rate."
Snap Judgments:  Smith College employee's hostile work environment claim (View Article)
Ben is a "Top Rated Employment & Labor Attorney" as recognized in SuperLawyers (View Article)
Ben was recently named a 2018 Excellence in the Law Honoree by Massachusetts Lawyers Weekly (View Article)
Ben contributes to the general employment blog and an executive compensation blog. You can read these blogs at Massachusetts Employment Law Blog and representingexecutives.com
Practice Areas
Ben is one of the leading employment lawyers in Massachusetts with broad experience in domestic and international law and policy. Ben litigates before state and federal trial and appellate courts and administrative agencies, focusing on civil rights and a comprehensive range of employment law matters in the private workforce and for employees in state and federal government.
A substantial part of his practice focuses on executive advocacy. Ben is highly esteemed by peers and opposing counsel for his creative approach to resolving disputes while positioning his clients for their best outcomes. He solves today's problems with an eye towards the future. Whether out front or behind the scenes, Ben negotiates employment agreements, deferred compensation agreements, equity grants/redemption agreements, non-solicitation/non-competition agreements, severance agreements, and corporate governance and merger/acquisition documents.
Ben also has a focused practice representing federal employees and contractors in security clearance matters, as well as other national security cases and concerns. His clients include a broad array of private employees, contractors, as well as special agents and investigative staff with federal agencies including: the Federal Bureau of Investigation ("FBI"), the Office of Personnel Management ("OPM"), and the Environmental Protection Agency ("EPA").
In addition to serving as Vice Chair of the Legislative Committee for the Massachusetts Employment Lawyers Association and as a member of its MCAD/EEOC Committee, Ben was appointed by the MCAD Chairwoman to the Massachusetts Fair Housing Coalition (which works with the Massachusetts housing community, the MCAD, HUD, and the Civil Rights Division of the Massachusetts Attorney General's Office to promulgate effective housing discrimination regulations and guidelines, as well as MCAD training programs for landlords, and public housing and Section 8 housing providers throughout the Commonwealth).
Ben also serves as an expert on US employment law matters for international litigations, and contributes to important employment law litigations. Recently, he submitted an amicus curiae brief for the Massachusetts Supreme Judicial Court in Oxford Global Resources, LLC v. Hernandez. (view submission), and has testified before the Superior Court of Justice in Luxembourg.
Experience
Prior to joining Gordon Law Group in 2010, Ben served as the Reasonable Accommodation Coordinator at the Boston Housing Authority's Office of Civil Rights. There, he developed and administered the Authority's Reasonable Accommodation Policies, serving public housing applicants and residents, Section 8 applicants and participants, and advising employees.
Ben was also the Chief Civil Rights Investigator at the Boston Housing Authority. He investigated allegations of civil rights violations, working in conjunction with Authority staff and local law enforcement agencies. Ben provided reasonable accommodation, civil rights and fair housing training internally and throughout the Commonwealth of Massachusetts, and he continues to do so.
Ben is also a certified mediator, and chaired the Mediation and Diversity Project at the Boston Housing Authority, providing mediation services to public housing residents, Section 8 participants, employees and the community at large. Ben continues to provide mediation services as part of his practice. Ben also conducts seminars on fair housing and reasonable accommodation law and policy, both at local law schools and within the greater Massachusetts community.
Prior to moving to Boston, Ben worked with the Liberian Working Group toward creating a war crimes tribunal to address unresolved parts of the conflict surrounding the Sierra Leone civil war and jurisdictional matters outside the mandate of the Special Court for Sierra Leone.
Education
Syracuse University School of Law

-

J.D.

Cum Laude

Maxwell School of Citizenship and Public Affairs

-

Master's Degree

International Relations

Institute for National Security and Counterterrorism (INSCT), Syracuse University

-

Certificate of Advanced Study

Security Studies

University of Rhode Island

-

B.A.

Magna Cum Laude
Read What Judges Say About Us
Where to Find Us
Boston Office
585 Boylston St